Temperature Measurement Thermowells
EMI manufacture bespoke thermowells for fluid & gas temperature measurement in very extreme corrosive, abrasive or high temperature environments. We are proud to be the preferred supplier of specialised Thermowells for BP and supply our thermowells into a number of industries. The company also has experience specifying alternative temperature monitoring solutions and can source equipment to suit customer requirements. The company has vast experience working with a variety of materials and bespoke designs.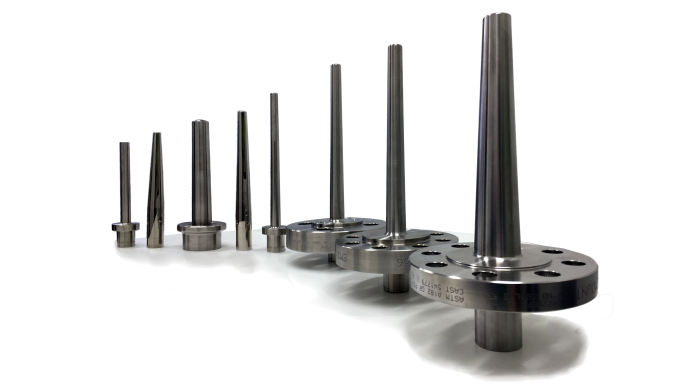 Specifications
Thermowells we can offer:
Thermowell Data Sheet
Process Connection:
Flanged, Hub Connector, Screwed, Weld-in, Vanstone,
Type:
Solid Barstock, Single Piece Forged, Welded, Fabricated with Solid Tip
Nominal Pipe Sizes:
½" – 4"NB / DN15 – DN100 – Others available on request
Stem Type:
Parallel, Tapered, Stepped
Stem Diameters:
10+ mm
Bore Diameters:
3 mm – 25 mm – Single or Multiple [Single bore 6.6mm most common]
Lengths:
Up to 1200mm overall solid drilled as single piece – Others options available
Instrument Connection:
Male or Female Threads: NPT-F, BSP, Metric Threads

[½"NPT-F Most common]

Material Grades:
Carbon Steel grades

ChromeMoly Steels (F9, F11, F22, F91 etc.)

Austenitic Stainless Steel Grades (300 Series: 316, 304, 310… / 400 Series.)

Duplex/Super Duplex Grades (F51, F53, F55 & F60)

High Moly Stainless Steel (F44 / 6-Mo SS)

Hastelloy (C22 / C276 / B3)

Inconel® Grades (Alloy 600 / Alloy 625 / Alloy 718)

Incoloy® Grades (Alloy 800 / Alloy 825 / Alloy 800H & 800HT)

Monel® (Alloy 400 / 500)

Cupronickel (70/30 & 90/10)

Titanium (Grade 2 – Grade 5)

Tantalum, Zirconium

Material Certification:
EN10204 3.1

EN10204 3.2

NACE – MR0175/ISO 15156 & MR0103 requirements for sour gas applications

NORSOK

Hardfacing/Coatings:
Stellite6, Ebonite Lining, Corrosion Resistant Coating. Other available on request
Sensors:
Thermocouples, Platinum Resistance Temperature Detectors (PT100), Bimetallic Sensors. Calibration of sensors available on request
Accessories:
Nipple/Union/Nipple arrangements, Connection Heads, Transmitters
Calculations:
Wake Frequency Calculations to ASME PTC-19.3 (latest version)
Conformity:
ATEX certified assemblies available
Thermowell Materials
Carbon Steel grades
ChromeMoly Steels (F9, F11, F22, F91 etc.)
Austenitic Stainless Steel Grades (300 Series: 316, 304, 310 etc.)
Duplex/Super Duplex Grades (F51, F53, F55 & F60)
High Moly Stainless Steel (F44)
Hastelloy (C22 / C276 / B3)
Inconel® Grades (Alloy 600 / Alloy 625 / Alloy 718)
Incoloy® Grades (Alloy 800 / Alloy 825)
Monel® (Alloy 400)
Cupronickel
Titanium
Tantalum, Zirconium
Thermowells can be designed to suit the following applications:
CNC Vertical Machining Centre
Many options for materials of construction*
3.1 or 3.2 Materials Traceability & NACE Compliance
PTFE/Ebonite/Stellite6 (or equivalent)
Cladded
ASME, API, PN Rated Process connection to suit all requirements
Design Pressures & Temperature to customer requirement
Non-Destructive Testing
Wake Frequency Calculations to ASME PTC 19.3
PED Compliance
Testing available on Thermowells:
Hydrostatic Pressure Testing – External & Internal
Radiography of Full Penetration Welds
Liquid Dye Penetration Testing to PCN Level II
Positive Material Identification
Ferrite Content Measurement with Ferritescope Tester for Duplex Stainless Steels
Thermowell FAQs
Why use a Thermowell?
A thermowell serves as a protective guard for the temperature sensor against damage from the process fluid where fluid pressure, velocity, erosion and corrosion would otherwise cause the sensor to fail. Another major advantage is that the thermowell maintains the pressure boundary allow sensor maintenance or replacement without needing to drain the system.
What is a Thermowell?
A thermowell is a protective sheath that is installed in a process pipeline or vessel to allow temperature sensors to be inserted into the process stream without exposing them to the corrosive or abrasive process fluid. The thermowell provides a sealed chamber around the temperature sensor to protect it from the process fluid and allow for easy removal and replacement.
What materials are thermowells made from?
Thermowells can be made from a variety of materials, including stainless steel, brass, and exotic alloys such as Inconel or Hastelloy. The material selection depends on the process fluid and operating conditions.
What types of temperature sensors can be used with thermowells?
Thermowells can accommodate a wide range of temperature sensors, including thermocouples, RTDs, and thermistors.
What is the maximum temperature and pressure that a thermowell can handle?
The maximum temperature and pressure that a thermowell can handle depend on the material selection and design specifications. Our engineering team can provide guidance on selecting the appropriate thermowell for your application.
How do you install a thermowell?
Thermowells are typically installed by welding or threading into the process pipeline or vessel. It is important to follow proper installation procedures to ensure a secure and leak-free connection.
How do you maintain and clean a thermowell?
Thermowells should be inspected regularly for signs of corrosion or damage, and cleaned as needed to remove any buildup or deposits. The specific cleaning procedures will depend on the process fluid and material selection.
What Type of Thermowell do I Need?
Thermowells we offer:

Single Piece forged, Full Penetration Welded, Van Stone
Flanged, Threaded, Hub Connector, Weld-in

RTDs & Thermocouples
Connection Heads
Transmitters
Accessories
Thermowell design suitability
In process pipes where the fluid velocity high, the forces acting on the unsupported portion of the thermowell can pose a threat to its integrity and eventually cause failure. Therefore, each thermowell has to be properly designed and optimized to ensure that the thermowell stress level caused by the load doesn't exceed the temperature-dependent breaking point of the thermowell during operation and/or start-up. Structural damages to the thermowell can be catastrophic and cause the stem to fracture and risk of shearing off into the process line releasing potential explosive, toxic or ecologically harmful substances as well as the injury of subsequent plant sections like turbines, pumps and valves.
EMI use CONVAL software to perform wake frequency calculations. The program calculates critical values for stress and frequency of thermowells in pipelines and compares these values to the allowed limiting values. Temperature dependent values for the maximum allowable working stress, the elasticity modulus and the density are available for many materials. Calculations can be accomplished according to ASME PTC 19.3 respectively DIN 43772:2000-3.
What do we need to consider when ordering Thermowells?
When selecting the appropriate thermowell for a particular application, there are several factors to consider. These include the process temperature, pressure, and fluid type, as well as the diameter and length of the thermowell. Generally, a larger bore diameter is better for higher flow rates, while a longer thermowell is better for deeper insertion and improved accuracy. Additionally, the chamber size should be large enough to accommodate the temperature sensor and any wiring or probes that are required.
How do I estimate what size Thermowell we need to order?
Some rules of thumb for calculating the bore and chamber size of a thermowell include selecting a bore diameter that is at least twice the diameter of the temperature sensor, and a chamber length that is at least four times the diameter of the temperature sensor. For high-velocity fluids, the bore diameter may need to be increased to reduce turbulence and improve accuracy.
What do you need from us to build a quote?
To provide a quote for a custom thermowell, our engineering team will need to know the specific process conditions and temperature measurement requirements. This includes the process fluid, temperature range, pressure range, bore diameter, chamber length, and any other design specifications or special requirements. With this information, we can provide a detailed quote for a thermowell that is tailored to your specific needs and application.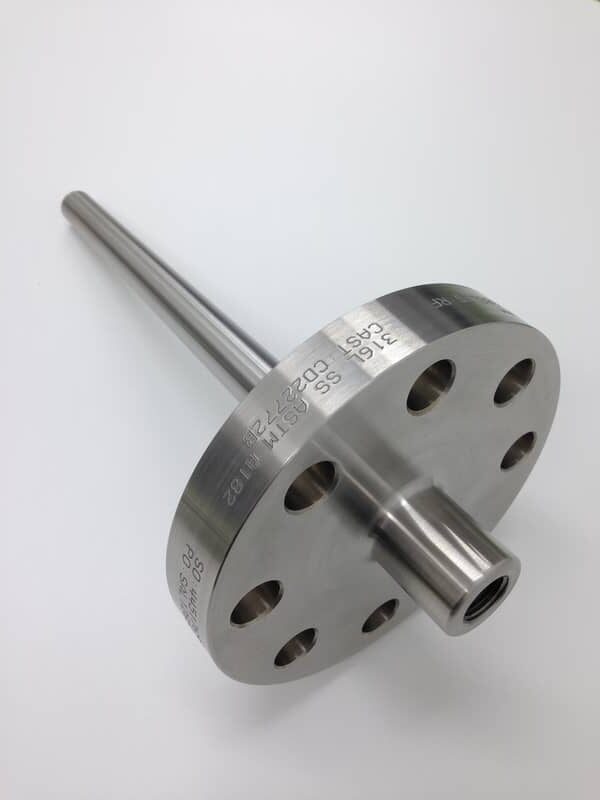 Flanged Thermowell by EMI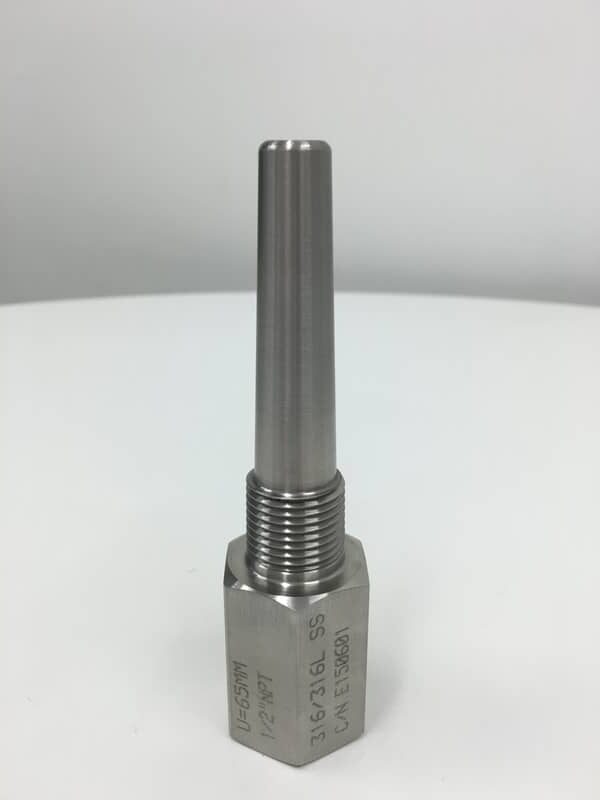 Threaded Thermowell by EMI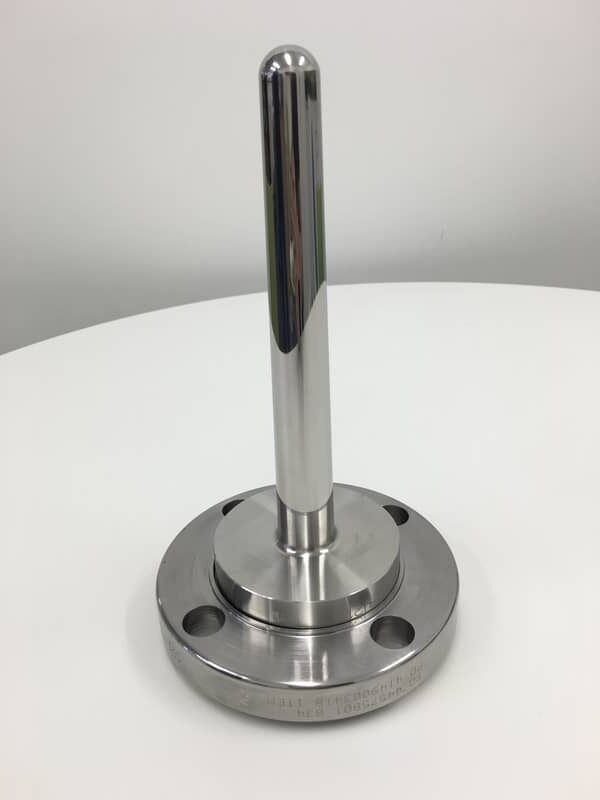 Vanstone Thermowell by EMI